ESSC & DUPLEX 2017 Conference
Bergamo - Italy 25/05/2017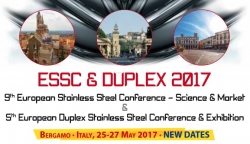 9th European Stainless Steel Conference - Science & Market & 5th European Duplex Stainless Steel Conference & Exhibition
After the successful experience of Graz 2015, once again, the 9th European Stainless Steel Conference Science & Market and the 5th European Duplex Stainless Steel Conference & Exhibition will be jointly organized, as a single event, by AIM, the Italian Association for Metallurgy.
The Conference will focus on all aspects of development, production technology (hot and cold rolling, heat treatment, etc.) and corrosion of stainless steels and duplex stainless steels and address delegates with both academic and industrial backgrounds.
The results shall contribute to the advancement of existing and potential applications and will help to guide future development. The event will bring together developers, manufacturers and users of stainless steel from industry and
academia and will compare the present and future needs to satisfy these demands now or in the future.
Short and medium term perspectives of European stainless steel fl at and long products will be widely discussed during the Stainless Steel Market Outlook session.
It is expected the presence of speakers representing the most important European stainless steel associations and reports coming from the big stainless steel companies.
Conference website: www.aimnet.it/essc2017.htm
THE ONLINE REGISTRATION IS CLOSED. IT IS POSSIBLE TO REGISTER DIRECTLY ON-SITE AT THE REGISTRATION DESK IN BERGAMO.
Download PDF documentation

Click here to download the documentation of the event. To join this event, fill in the form attached in the documentation or click below