Raw Materials & Recycling International Meeting
Bergamo/Italy 01/12/2021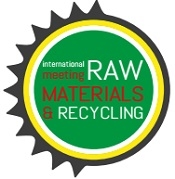 SCOPE
The environmental and economical sustainability of the metallurgical industry depends on the possibility to recover and recycle the metal products after their use. On the other hand, a new challenge is a zero-waste metallurgical process.
Such an approach has to be faced from perspective involving commercial, economic and technical issues. Although recycling is an intrinsic feature of all the metallurgical processes, an efficient circular approach needs to take into account a correct
selection and cleaning of the metallic and glassy-ceramic materials in order to allow their use in the process avoiding or limiting the exploitation and the consumption of the natural resources.
Such a view imposes a multidisciplinary approach where the application of complex mechanical system, innovative chemical plants, electromagnetic devices, biotechnological techniques and managing algorithm even ruled by artificial intelligence (i.e. for scrap selection, removal of the organic burden, extraction of valuable chemical elements etc.) have to be applied.
An efficient action inspired to the circular economy has to take into account a comprehensive vision where the recycling is associated to an efficient material and energy exploitation that implies an overall decrease of the polluting elements and greenhouse gases.
REGISTRATION FEES
Early bird registration fees (by November 12, 2021)
N.B: Speaker registration deadline: November 5, 2021
FEES FOR DIGITAL PARTICIPATION ARE THE SAME AS ON-SITE ATTENDANCE FEES

ALL REGISTRATION ARE REVENUE STAMP INCLUDED
AIM MEMBER € 350
•SPEAKER
•SESSION CHAIRPERSON
•COMMITTEE MEMBER
NON MEMBER € 440
•SPEAKER
•SESSION CHAIRPERSON
•COMMITTEE MEMBER

PARTICIPANT (NON-PRESENTER)
AIM MEMBER € 490 - AFTER 12 NOVEMBER € 530
NON MEMBER € 580 - AFTER 12 NOVEMBER € 620
For non–members, the fee includes AIM Membership for the last quarter of 2021 and for the year 2022
STUDENT *
€ 330 (22% VAT included)
AFTER 12 NOVEMBER € 370 (22% VAT included)
* Student will have to provide valid proof of student status.
The Meeting dinner on December 1 is not included in the student registration fee
Meeting dinner on December 1
Additional ticket for Meeting dinner for accompanying persons: € 110 (22% VAT included)
(Includes only the Meeting dinner on December 1, 2021)

MEETING REGISTRATION FEES INCLUDE:
• Admittance to technical sessions and to the exhibition
• Meeting bag with electronic proceedings
• Meeting dinner on December 1
• Coffee breaks and lunch
SPONSORSHIP OPPORTUNITIES
Companies interested in sponsoring the event may contact the Organising
Secretariat: aim@aimnet.it • tel. +39 02 76021132. Information and forms will also
be available on the Meeting website: www.aimnet.it/rawmat.htm
ORGANIZING SECRETARIAT
ASSOCIAZIONE ITALIANA DI METALLURGIA
Via Filippo Turati 8 - I - 20121 Milano, Italy
Tel. +39 02 76021132 • +39 02 76397770
E-mail: aim@aimnet.it • http://www.aimnet.it/rawmat.htm
Download PDF documentation

Click here to download the documentation of the event. To join this event, fill in the form attached in the documentation or click below