International Meeting Metals for Road Mobility
Bergamo 21/11/2019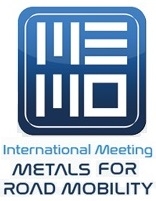 TRENDS AND FUTURE OF ALLOYS FOR AUTOMOTIVE AND TRUCKS
The Meeting will focus on the development and innovation of the metallic materials used for the car body structures, equipments and the new propulsion architectures that will condition the mobility technologies in the next years. The attention will be devoted, in particular, on cast irons, steels, aluminium and magnesium alloys. The discussion will involve the microstructural aspects and the technological ones for the production of high performance and reliable materials to fit the safety and the environmental requirements of both current regulation and its upcoming evolution.
MeMo aims at providing a forum for information transfer among producers, components manufacturers and suppliers, research and academics, designers and engineers, active in the mobility (automotive and trucks) field.
Trends and future of automotive sector will be widely discussed during the plenary session, organized by Siderweb in the second day of the Meeting.
Website: www.aimnet.it/memo.htm
AIM is looking forward to welcoming you in Bergamo!
Scarica la brochure PDF

Se lo desideri puoi scaricare la versione in PDF della brochure informativa dell'evento. Per iscriverti puoi compilare il modulo d'iscrizione allegato alla brochure oppure compilare il form elettronico qui a margine.