ROLLING-12
12th International ROLLING Conference - Trieste, 26-28 October 2022
Trieste 26/10/2022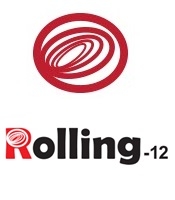 Thanks to a long and successful series, the ROLLING conferences have become the premier international event for rolling practitioners world-wide. The target audience embraces the whole metals rolling community: flat and long products rolling, hot and cold rolling and ferrous and non-ferrous rolling. The forum will cover product and process topics, encompassing rolled product properties, quality and applications, in addition to the design, control and management of mill assets.
The Conference will bring together rolling practitioners, steel producers, plant designers and researchers and it will provide a forum for best practices and state-of-the-art technology. It will also take a look at developments in the foreseeable future.
Conference Chairman: ing. Gianpietro Benedetti - Danieli

Please visit the Conference website: https://www.aimnet.it/rolling-12/
AIM Secretariat - aim@aimnet.it
Scarica la brochure PDF

Se lo desideri puoi scaricare la versione in PDF della brochure informativa dell'evento. Per iscriverti puoi compilare il modulo d'iscrizione allegato alla brochure oppure compilare il form elettronico qui a margine.